Movie Review: Atomic Blonde (2017)
So...Atomic Blonde came out on July 28th and I watched it the next day on Saturday. I didn't think much of the movie and it was just out of sheer convenience + perfect timing.
So Atomic Blonde was touted amongst my friends as the "..female version of John Wick" and I entered the theatre with much anticipation and lukewarm-feeling in the stomach. Well I for one do not believe females can be all the testosterone we see in The Hulk, Bad Boys, Batman, Rambo.. - you get what I mean.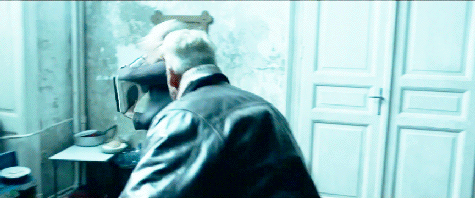 Well I was wrong. The make up and sound effects, coupled with Charlize Theron's and James McAvoy's acting, made me cringe and be amazed at some parts of the movie. Charlize can actually throw throw her heels out, fold up her sleeves and kick ass - and in the movie her character exudes this confident, empowered woman - which I really like. James McAvoy was the perfect co-star in the movie. He's damn good, nuf said.
The movie started by showing Charlize at the current state where she had a black eye and bruised face - setting the tone and mood on the audience for a thrilling experience ahead. The movie was exciting from start to finish, definitely worth the money spent. =)
And hey there's another co-star that I felt sooo familiar but couldn't remember where. Where oh where I saw her...
And after about 5 minutes of scavenging my brain folders - there she was, Sofia Boutella from The Mummy 2017. Haha! Who can forget that beautiful face and sultry eyes.
The story was presented at such that if you miss 10minutes of it, you won't get the story at all in the end. Haha. So be sure to use the washroom before the movie!
Verdict
Would I recommended? Yes, the movie is perfect to watch with the girls.
Probably not for those who loves muscles and gun-explosive scenes.