Movie Review: Hachi: A Dog's Tale (2009)
Picture from dailyintake.wordpress.com
I saw Hachi: A Dog's Tale (2009) on HBO this morning. This American movie is a remake an old 1987 movie Japanese film "Hachikō Monogatari", based on a true story that happened in Japan in the early 90's. I was just having my breakfast and casually glancing at the tv when the movie started and I got real serious watching it as the movie started to go further more...emotional.
Hachi: A Dog's Tale (2009) Sypnosis
A heart-warming movie based on a true story of a college professor's bond with an abandoned dog that he saw at a train station that he used to take between work and home.
Picture from list.co.uk
Hachi: A Dog's Tale (2009) Cast
♥
Three Akita dogs named Chico, Layla and Forrest as Hachiko
♥
Richard Gere as Parker Wilson
♥
Joan Allen as Cate Wilson
♥
Cary-Hiroyuki tagawa as Ken
♥
Sarah Roemer as Andy (Wilsons's daughter)
♥
Jason Alexander as Carl (guy works at the train station)
♥
Erick Avari as Jasjeet
♥
Davenia McFadden
♥
Robbie Sublett as Michael
♥
Kevin DeCoste as Ronnie
♥
Rob Degnan as Teddy Barnes
♥
Tora Hallstrom as Heather
♥
Donna Sorbello as Myra
♥
Frank S. Aronson as Milton
♥
Troy Doherty as Sal
♥
Ian Sherman as Student Pianist
Source from imdb.
Picture from highdefnews.blogspot.com
Del Says
This is most probably the most emotional, the most heart-warming, strikes-through-the-heart movie that I've ever seen in my whole entire life. This movie circles around loyalty and how warm and affectionate pet owners and pets can be. I have cats and I've lost cats and I can very much relate to this movie. If you own a pet, it would be a sin to not watch this movie. I think this is a very good movie with good morales to be learnt from and everybody especially children should watch this and reflect ourselves. I did that.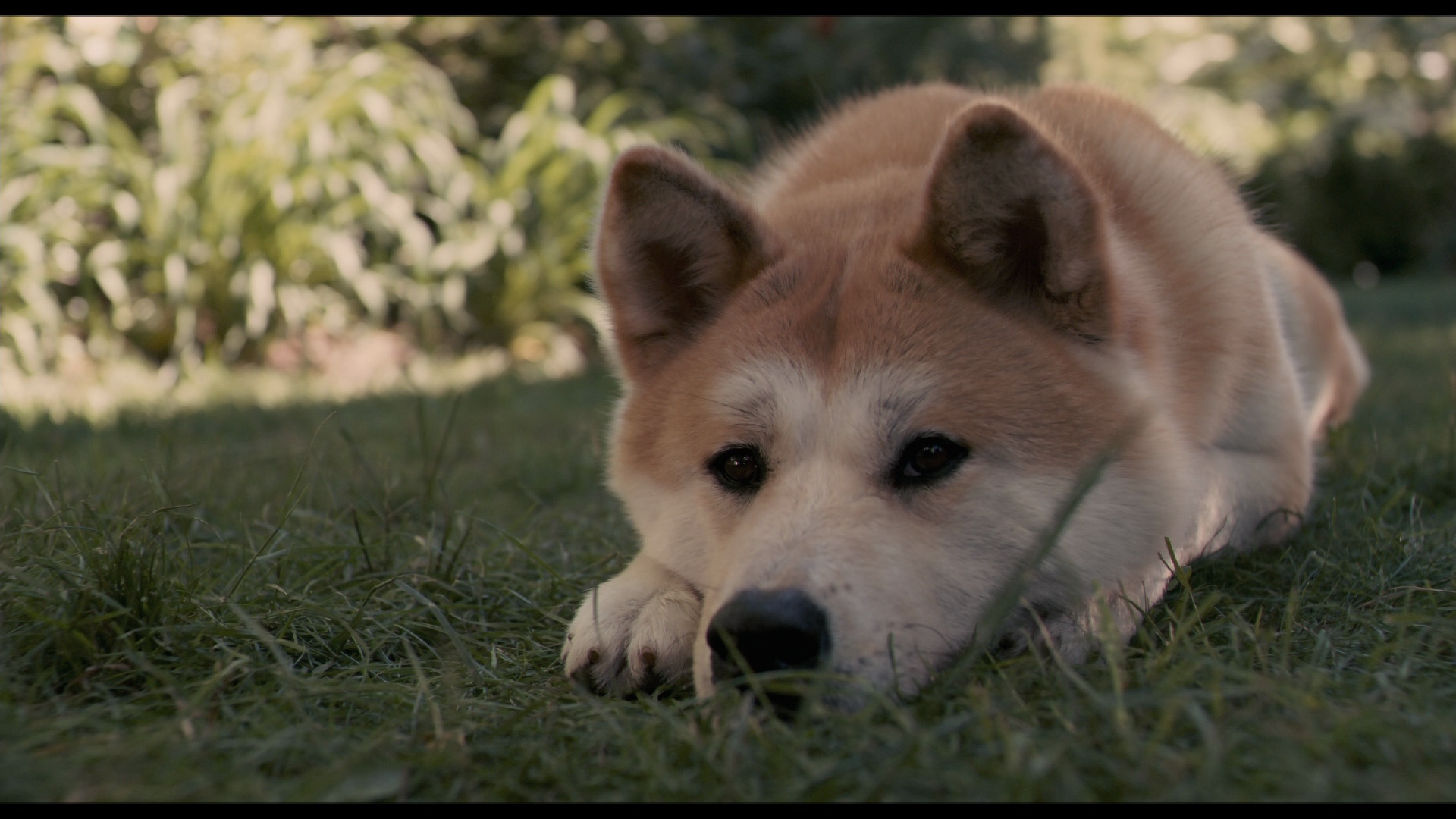 Picture from dvdbeaver.com
How Sad Is It?
Tell you the truth, I cried for more than 1 hour for this movie since the 'tragedy' in it. From a real story, to think that a puppy could devote such amazing fondness, love and loyalty towards it's owner as it matures has such innocence, such awe to me that we humans I think, can only grasp so little of it. I am so going to have my kids watch this movie in the future. If there's a remake, we'll see. =)
Picture from emol.org
My crying got even worse when it was nearing the end and it showed Hachi got awakened by the last train on the railway one night, he got up, just as he'd been doing for the past 10 years of his life, walked towards the entrance of the train station without hesitation, with all the hopes in the world that he'd see his master again. People came out from the door, only several people at that time. He sat and lied down with his head on his paws, eyes closed, ears down on both sides of his head. Then he saw his master, Parker Wilson (starred by Richard Gere) calling for him 5 feet away. Hachi ran towards him, happy, delighted and alive again after waiting for so long. It was so beautiful. I got to a point where the crying was uncontrollable that I made sounds and saw Snowy came into the room and stared at me. I think my fishes stared at me too. xD
Picture from justdogswithsherri.blogspot.com
Rating
9.5/10
I think this is the highest rate I've given so far. This movie deserves it.
Picture from domokunest.blogspot.com
I 200% recommend you to watch this movie and do prepare the tissue box next to you.
Shine on,
Del