Review: The Tourist (2010) by Angelina Jolie and Johnny Depp
My dad was somewhat excited about this movie for Angelina Jolie's in it. xD And yes, it was an exciting film. Here's a review for The Tourist movie, released at 30 December 2010.
Source from shockya.com
The Tourist (2010) Sypnosis
Johnny Depp stars as an American tourist whose playful dalliance with a stranger leads to a web of intrigue, romance and danger in The Tourist movie.
During an impromptu trip to Europe to mend a broken heart, Frank (Depp) unexpectedly finds himself in a flirtatious encounter with Elise (Angelina Jolie), an extraordinary woman who deliberately crosses his path.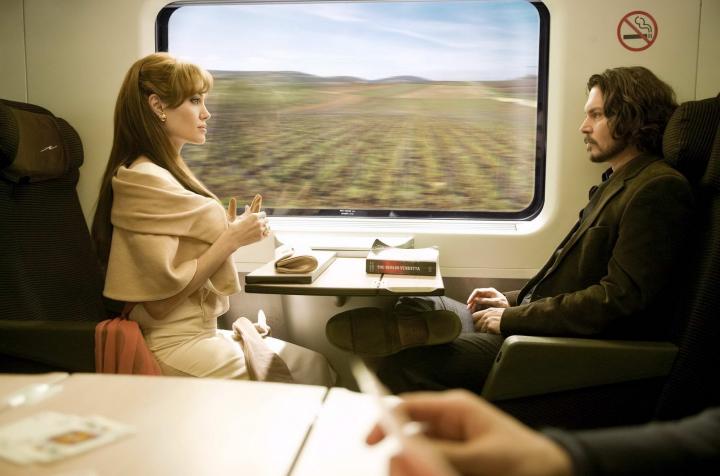 Source from filmofilia.com
Against the breathtaking backdrop of Paris and Venice, their whirlwind romance quickly evolves as they find themselves unwittingly thrust into a deadly game of cat and mouse.
Source from filmofilia.com
Source from
The Tourist Movie
I must say the script is a very interesting one and congratulations to the scriptwriter or storyteller!
The Tourist Main Casts
♥
Johnny Depp as Frank Tupelo
♥
Angelina Jolie as Elise Clifton-Ward
Source from geeks.co.uk
♥
Paul Bettany as Acheson
♥
Timothy Dalton as Jones
♥
Steven Berkoff as Reginald Shaw
♥
Rufus Sewell as The Englishman
♥
Christian De Sica as Lombardi
Del Says...
Source from tourist-movie-trailer.blogspot.com
It all began with an unfateful cross of scene of Frank and his life began to be somebody in a very dangerous cat and mouse chase between the police, mafia head and Elise looking for the man she loves, Alexander Pierce. The story's very simple to understand, like, most of the time I was wondering who's this Alexander was and whether they'd finally find him or not.
Source from blog.muchmusic.com
Venice as the shooting scene gave out a very romantic feeling throughout the movie and Angelina certainly fits her role very well for she looks sexy-mysterious at the start of the movie, making us viewers wondering what was her problem and Frank, a Mathematician teacher, wondered as well and fell in love for her.
Source from thevine.com.au
Johnny and Angelina's presence in the movie as co-stars was a very interesting pair to watch as Johnny's been to quirky movies like Charlie and the Chocolate Factory, Edward Scissorhands and Pirates of the Caribbean while Angelina's been to action movies like Lara Croft: Tomb Raider and Mr. & Mrs. Smith. Together, they made the movie came alive.
Source from movies.about.com
Very sneaky little movie too, I never thought the ending would be like that. Very cleverly-thought one. =) You gotta watch this.
Source from justjared.buzznet.com
Oh did I mention Angelina's make up looks were sooo beautiful here? It was like no-make up at all! She looked stunning!
What I Don't Like
I think it wasn't really logic as it's pretty impossible for all the incidents in the movie to happen just at the right time, at the right place and with the right person. It's just impossible, like how a hero can take out the whole battalion of army without any injury- just in movies.
Rating
8/10
.
Who'd Love This?
Those who like to play 'inspector' in crime or thriller movies where you'd wonder who the killer is or something. This is a romantic-action movie and I felt uncomfortable watching Angelina Jolie and Johnny kissed several times with my family around. So couples only please, if you dare. xD
Source from commentarytrack.com
The Tourist Trailer
Shine on,
Del