Taylor Swift and Jake Gyllenhaal are Dating!
December 09, 2010
Well, not really confirmed by the couple themselves, but they certainly oozes the love♥ too much to be ignored by the tabloids.

Swift and Gyllenhaal were spotted together, again at Nashville, the singer's hometown. They were at Fido, a coffeehouse and cafe near Vanderbilt University and Music Row.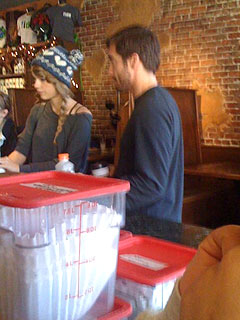 Eyewitnesses
Diner Elaina Mishu told, "They were smilling and laughing. They were talking a lot and enjoying each other's company."

"They didn't look like (just) friends".

Another customer, Emma Rice, who snapped the photo above, said that the couple was very cute and said, "They seemed close".

Another eyewitness whose name wasn't mentioned said,"They were not trying to be discreet by any means. They were definitely a couple. They looked very happy."

Well well well....a new adventure for both of the individuals I presume.

Source from People.com.

I think...
I think this isn't a new thing for the world to hear. The famous couple to be related to big-age-difference-in-relationship, Ashton Kutcher and Demi Moore, they have 16 years difference between their ages and they're still going strong till today. It's a bit...weird as to say Taylor's having this kind of relationship at such a young age, but I'd like to see how this story ends. =)

It's an interesting combination, Taylor had bad boyfriends in the past, Jake had a steady relationship with Reese Whiterspoon...I don't know really. Maybe this will work.

Maybe. Hopefully.







Shine on,
Del