Review: The Chronicles of Narnia: The Voyage of the Dawn Treader (2010)
During the day where I spotted
Barney
and bought
Sasa's Smart White
cleanser, I watched Narnia 3-
The Chronicles of Narnia: The Voyage of the Dawn Treader (2010)
at Growball Cinemax.
I watched Narnia 3 in 3 D. =)
The movie started off as usual, the room got filled with water and off they go to their magical and wonderful journey which we all love so much! Only this time, they're bringing Eustace, Edmund's cousin along! xD He just happened to be at the wrong place at the wrong time.
Eustace had a great humorous act for all of us viewers to laugh at. xD He's the cousin of Edmund who doesn't believe in magics and dragons and sort of bonded with Reepicheep, the fearless-in-battle rat...? Guess he's a rat, considering his big size and long tail. xD
They encountered a problem while discovering...ruins, I suppose. Ancient site and they got ambushed by a bunch of men. Eustace was the one who got them caught. xD
In the 'jail' place, King Caspian saw a very weird thing. Some of the inmates were hurled up to boats near the sea and was sent floating away. Sometime when they're already in the middle of the ocean, the sky turned dark and gray all of a sudden. Green clouds of mists swiftly came beneath the waters upfront and circled around the boats and disappeared with them.
King Caspian thought he'd get to the bottom of that matter. They needed to gather 7 swords of the Lords to do that and so set off towards islands with a blue moon above it.
Along the way, Lucy got herself seduced to use a magic that can make her beautiful like her sister. She was tempted, nearly got it to use when Aslan met her in her dream and got her to see the light. There was no need to be somebody else, just be who you are.
Eustace's story's the best part of all. He was turned into a dragon! One of the sites where they'd gone to search for the swords, he was greedy enough to fall to the golds laid in front of him.
And finally...the magnificent view of the border between Narnia and Aslan's world. It was amazing man, the 3 D effect was just superb. Like it was really real! Reepicheep went in to the water to discover Aslan's place and so he was super happy to be able to. =) Eustace cried when they were parting. Awww....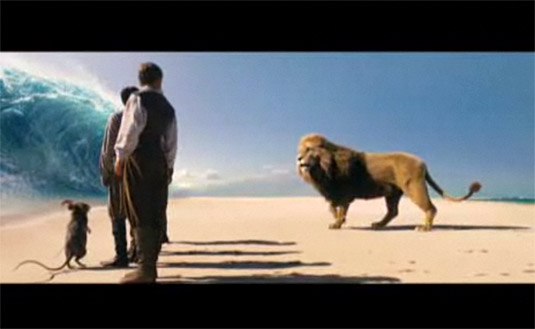 The Chronicles of Narnia: The Voyage of the Dawn Treader (2010) Trailer
Chronicles Of Narnia 3 Trailer 2
Rating
8/10
I think I prefer the previous one where they got into the snow place..this movie seems...yes, the graphics were nice but....I don't know. Can't point the fault here.
I would like to see more of Narnia. =) Hope this isn't the last one.
Shine on,
Del