Peaches Geldof in OMG! Totally Peaches by ITV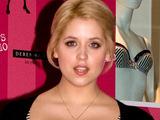 ITV has confirmed that Peaches Geldof will host a new 6-episode series show where she'll help solve guest's problems. Celebrity guests will also be present to share their own personal experiences on various topics.
"Relationships, sex, and all manner of behavioural issues will be on the agenda in each episode," the broadcaster teased. "Guests will tell their stories in full OMG! detail in individual VTs to be shown in studio, before sharing their experiences with Peaches and her panel, who, along with the audience, discuss the problems and how to find a solution."
Peaches Says...
"I'm so excited to be presenting this show and getting to meet and interact with the ITV2 audience and the guests.

"I can't wait to find out what's really on the minds of young people in Britain today."
Diana Howie, ITV's Factual Commissioning Editor, commented,"
We're really excited about this fresh, original new series. Peaches is a perfect fit for our young, celebrity-loving ITV2 audience and we're delighted to be working with her on shows that will entertain, inform and surprise
."
Good luck Peaches! =) And the whole ITV crew.
Shine on,
Del