Review: Juice Mania from iWin
Juice Mania
is a Match-3 Games, Purchase Only Games and Puzzle Games kind of game from
iWin
. I've played it and now I'll be doing a review for this game, Juice Mania.
First impression is great, the menu looks nice and user-friendly, easy to maneuver and attractive. But the cursor's just hard to go over with, like....hard to point and click on things..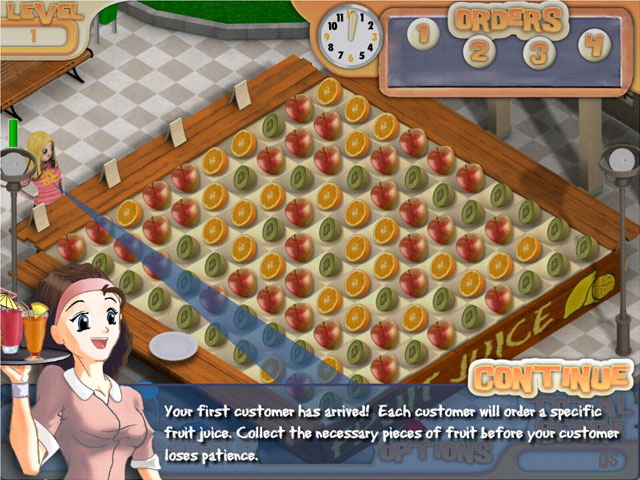 The game's helpful all the way. There were instructions on the first stage, everytime there's a new feature, new items to help on winning, obstacles and how to remove them and others like buying my first cookie/ lollipop. I can always go to the "How to Play" option on the "Main Menu".

Too bad this game doesn't show the lady making and serve the customers, it's more like the lady training me, myself to sell the drink for she appears only when she gives instructions.



The game's a long one. =) Very long, 100 levels! =D But it gets quite boring at the end as there's no storyline, no mini game or anything in between. Just stage after stage and the only thing that gets me hooked into this is the expert goal. I'd be so irritated when I couldn't reach it! xD

The game's ending is...so-so. It's a happy one of course, but that's it. Like, "Hey you've reached the end, congratulations." That's it.



♥

How to Play Juice Mania


This game, like it's category "Match 3 games", is a game where you have to match 3 items or more. This game is about a lady who quit her job to sell fruit juices as she hates the unhealthy soda she had.

Match fruits of the same type to serve customers before they become angry and leave (will cost you -$10 per customer). There are 2 types of goals- Goal Level and Expert Goal Level. Goal Level is the enough money earned to continue the next round. Expert Goal Level is...well, shows that you're an expert. It's higher than Goal Level's limit.




♥

How do I make customers happy?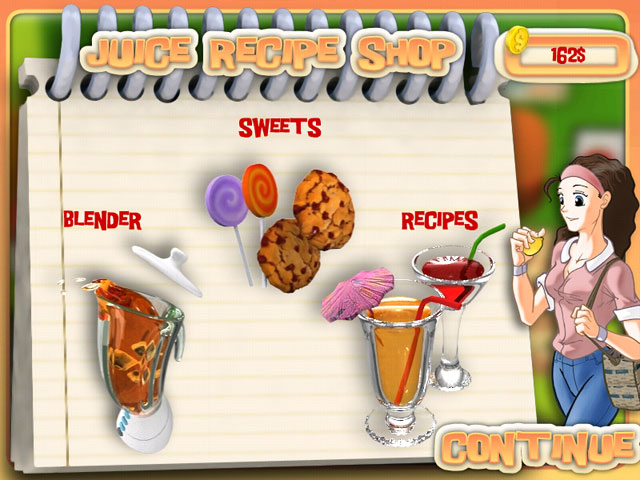 Unless you're an expert on matching the fruits, buy cookies or lollipops. Lollipops are cheaper and it's great when you're starting out and have little money, unless you're great on making money in the game I suggest you get the cookie.



♥

How to match fruits faster


Besides the cookies and lollipops, you can also purchase and upgrade "Blander". See the picture above, it's at the bottom left corner. It's a tool where you can combine different types of fruit instead of matching the same type. This is great to save time and serve customers fast and of course, match fruits the easy way. This tool can be used occasionally when you match lots of fruits together.



♥

How to get a lot of money $$$ / Expert Goal


Of course, serve a lot of customer. Therefore, the "Blender" tool is essential to make mathings faster and get you to get more customers.

There are some stages where it's just impossible to achieve the goal, like the time was cut short and customers were little. See what they're ordering and how much it's worth. If they're ordering $9 drink and you're halfway through the day and your goal's not even half yet, it's best to make them leave instead of making them stay by giving cookies as it's just not worth it. Just let them leave and the next customer might want a higher priced drink. =)

Of course, if you're only selling the cheap drinks like $5 only, of course you can't achieve the $300 goal. So invest on buying recipe drinks that can give you more money.



♥

There are a lot of obstacles all over the field! What to do?


When this happens, I always try to make the center part clear as I can get more matches and avoid "No Movements Left" situation. However, if the center part has locked boxes and there are a lot of it, I'll focus on clearing the outer region of the field or anywhere that only needs one match of fruits to remove it like "Box". If there are lots of "Locked Box" or "Ice" all around, I focus on clearing the center part first.



♥

Tips


The customers don't warn you or no beeping sound will be heard if they leave/ going to leave. So you must be alert on their happiness level. Give them cookie only if their order is worth the trouble (give you a lot of money).

Always pay attention to what fruit is frozen ("Ice") as it may the one that can be matched.

When the "Blender" tool is lit up, use it fast because there's no accumulation points for it. It will only fill up once after you used it up.

My vote for this game is

6.5

. =) You can buy it for $6.99 at their
website.









Shine on,




Del