Lamar Odom's Ex-Girlfriend, Liza Morales' Feedback on the Wedding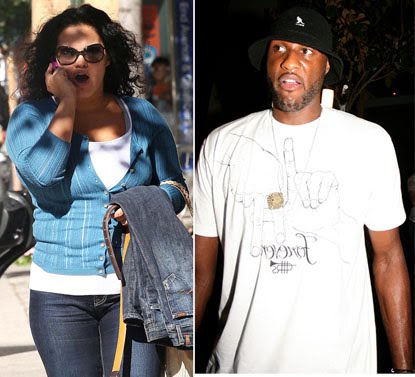 Liza Morales, left. Lamar Odom, right.
Following the
marriage
between Khloe Kardahian and Lamar Odom, Liza Morales, Lamar Odom's ex-girfriend for the past
10 years
, is shocked and isn't somewhat okay with the marriage. I think she's in shock. And god, read the text he sent her in the paragraph below. It's heart wrenching for someone you love, sent you text like that, and you still haven't got over that person. Man he has
no heart
.
"I'll never forget receiving that text it simply read: Getting married soon – want the kids to meet my future wife," she revealed. "I've known Lamar for 15 years and we had three children together and he was always a real commitment phobe so finding out that he was marrying Khloe Kardashian so soon was a bombshell to say the least. "


Yeap, she is in shock. Who wouldn't, by the way? The fact that he had been with Liza for 10 years and dumped her and found Khloe and wed her after dating in just

a month

are good enough reasons to be! I think Lamar's got something, something not right. Yeah, I can see it.


She sure ain't happy.
Despite the disintegration of their relationship, Morales only wishes him the
best
: "I just hope that he has found true love now and that he has got married for the right reasons - not for Hollywood, publicity, money or fame. Lamar is basically a good guy who is very
charismatic
but he
didn't treat me well
with regard to this marriage. I don't know Khloe Kardashian, so, I can't really comment on her and all that is important to me is my kids."
Clearly she's not happy with him marrying Khloe huh. Of course la..who wouldn't. I think all she cares now are her two sons,
Destiny and Lamar Jr
.
And she
got rid of his clothes
! Wow after so long only then she threw it? And not all of it, some, just to give her some space!
"I did get rid of some of his clothes in the re-cycle bin but that was only to clear some space in the closet and to clear his energy from my place," she explained.
And she's okay with Lamar seeing their kids and I think, hopefully, for Khloe too. Wonder how it will be when they three meet face to face..
"Despite everything that has happened I would never stop Lamar from seeing our kids and I've already checked his basketball schedule and hopefully he will be able to see them when the Lakers are on the east coast. I'm just trying to do my best right now but it has been tough at times but my kids and family keep me strong. I've got no intentions of going back to Los Angeles now."
Shine on,
Del