Lindsay Lohan Broke Up With Samantha Ronson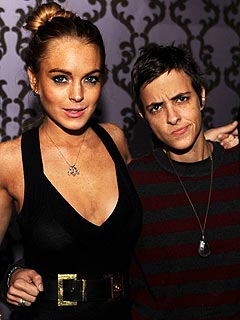 Well first of all, I didn't know about this till my friend told me about it just now in the academy! Whoa! Then I saw a post from
people.com
in my Google Web Clips Gadget and clicked on it.
It seemed the break up was all because of Lohan,22, was
banned by Sam herself
and her family from the "I Heart Ronson" bash at Bar Marmont, an event celebrating Charlotte Ronson's clothing line an Friday. I don't know if they have already broken up before the event.
"The next night, Lohan
hit up other hot spots
including the Hollywood Roosevelt Hotel. According to a paparazzo, who spotted the star at McDonalds later in the night, "Lindsay kept hiding her face in her hands … One second she would scream that we were scaring her and the next she started rambling about how much she loves Samantha."
Sam's family made her swear that it's really over and they are supporting Ronson in staying away from Lindsay. Looks like Samantha's family doens't really like Lindsay so much huh? I wonder why..
"On Monday, April 6, 2009, at approximately 5 p.m., members of Ronson's family came to the Beverly Hills Police Department," a police spokesperson says. "They were given information for the process of
obtaining a restraining order
which will be administered at the Santa Monica Superior Courthouse." Another article said that Sam
doesn't
have anything to do with it.
Lindsay's
battling it
after the break up, a source told People.com- "Is she upset? Yes. Has it been a rough week? Yes," says the source close to the actress. "But her
family's around her
and she's just focusing on business (spray tan line-
Sevin Nyne
) right now."
Will it be for good or it's just another bump on the boat? We'll wait and see~!
Shine on,
Del